The Ultimate Facial - Sanctuary Skin Clinic
Our Signature Clinically Advanced Results Facial and Tired Eyes, Lip & Chin Treatment
The Ultimate Facial - sometimes you need everything.... Our 60 - 120 minutes signature Clinical Results Facial combines three or four full superb individual treatments into one facial to target collagen induction, skin tightening & lifting, smoothing, plumping, radiance and total skin rejuvenation.

The Ultimate Facial can be adapted to all skin types and treat various skin conditions / concerns at the same time via Mesotherapy, e.g., anti-ageing; acne; pigmentation, chronic redness or rosacea, eye bags, wrinkles and fine lines, dehydrated skin, loss of radiance, elasticity etc... See the individual treatment pages for further details on each of the three treatments.


Includes a full skin consultation and analysis, an Environ clinical double cleanse & tone, facial massage using acupressure for natural skin lifting; Radio Frequency skin tightening and lifting for face, neck & jowls; microdermabrasion or advanced pH Formula skin resurfacing / vitamin C vitality treatment; bespoke needle-free Mesotherapy via Eporex, Xpert or Ionzyme isophoresis and finished with rejuvenating LED Face Mask, Microcurrent muscle toning or or a pampering face mask with collagen eye gel pads and extra natural face lift massage. 2 Hour clinical facials also include as an option IPL Skin Rejuvenation or Thermage RF for the most advanced combined clinical facial. Tailored to your skin type, skin concerns and desired result. Multiple conditions can be treated at the same time. Finished with Environ skincare products - simply one of the best cosmeceutical brands on the market and recommended by the IIAA - International Institute for Anti Ageing.
Tired Eyes, Lip & Chin Treatment - 45 Minutes, £60
Our Signature combination treatment to rejuvenate the eyes, upper lip, corners of the mouth and chin area. Radio Frequency Skin Tightening; Mesotherapy skin feeding infusion of vitamins, anti-oxidants, peptides and hyaluronic acid combined with relaxing Lymphatic Drainage & Eye Massage to target lifting, smoothing and reduction in wrinkles, dark circles, puffiness & eye bags
HydrO2 Facial also available as a defined 7 step deeply cleansing, toning and resurfacing treatment - see our HydO2 Facial page here.

Crystal Clear COMCIT ELITE also now available - Cryo-oxygen, micro-channelling, collagen-induction therapy, with crystal microdermabrasion and Dermalux LED Flex. Superb! From £95 - £150.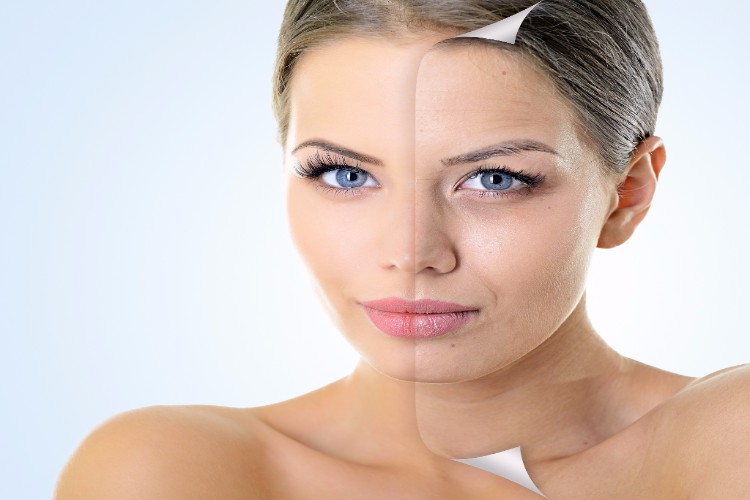 Our Ultimate Facial pricing is below. Skin Club Members benefit from significantly reduced prices for flexible, on-going maintenance programmes. See here for up to 50% savings!!

90 Minutes: 4 combined treatments         £175   £135 (Skin Club price) 
75 Minutes: 3 combined treatments          £135   £95 (Skin Club price)

60 Minutes: 2 combined treatments          £110    £80 (Skin Club price)

Our favourite / most popular combination is RF Skin Tightening, followed by pH Formula A.G.E resurfacing treatment and either Mesotherapy Skin Feeding or Microcurrent Muscle Toning. However we will help guide you to create the best treatment bespoke to you, on the day of treatment.

Choose from Radio Frequency Skin Tightening, Microdermabrasion (Diamond Tip or Crystals), pH Formula Skin Resurfacing, pH Formula VITA.C Radiance Release Treatment, Eporex Facial Rejuvenation, Ionzyme Electrosonic Mesotherapy or Xpert Mesotherapy bespoke to you, Dermalux Flex LED Face Mask, Pampering Face Mask, Natural Facelift Massage, Microcurrent Muscle Toning, Oxygen Infusion, Aqua Dermabrasion, Cool Peel, Ultrasound, Fire & Ice, Thermage RF (only in 2 hour facial) and IPL Skin Rejuvenation (only in 2 hour facial).
Visit us for a free consultation and we will guide you through the treatment options. Optimum results would come from a course of 3-8 Ultimate Facials followed by monthly maintenance - see also our Clinically Advanced Facials menu here and our Sanctuary Skin Membership Club here for up to 50% savings!!