3D HydrO2 Facial - The Ultimate 5 Star Facial with 7 Steps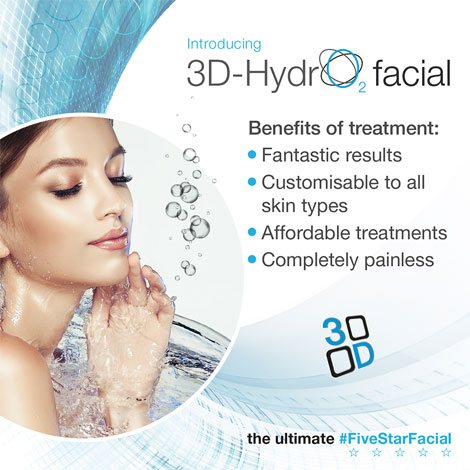 The 3D HydrO2 Facial has been developed to offer the complete facial experience to target an array of concerns including dehydration, oxygenation, anti-ageing, brightening, skin tightening and congestion. Offering seven different technologies which smooth, hydrate and cleanse the skin, we are able to tailor your facial to your specific concerns and requirements. The HydrO2 Facial is hailed as the 'red carpet, five star facial' loved by social media due to it's instant, youthful, younger, radiant results. This treatment is very much in the news right now and has a lot of industry buzz.


HydrO2 facial utilises seven different advanced technologies, offering more prescriptive, versatile and rounded facials. These technologies smooth, hydrate and deeply cleanse the skin resulting in a glowing, more youthful appearance.

Customisable to all skin types
8 unique facial protocols for brightening, anti-ageing and clear skin
Prices:
DELUXE
75 mins…………………………………£135
Skin Club Price……………………………£95
DELUXE PLUS
90 mins…………………………………£175
Skin Club Price…………………………..£135
Visit us for a free consultation and we will guide you through the treatment options. Optimum results would come from a course of 3-8 Ultimate Facials followed by monthly maintenance - see also our Clinically Advanced Facials menu here and our Sanctuary Skin Membership Club here for up to 50% savings!!
3D HYDROPEEL: Uses a combination of three AHA & BHA solutions to cleanse, hydrate, nourish and smooth the skin. Any bacteria and inflamed skin are improved. Vacuum action then removes impurities from congested areas of skin.
EXFOLIATION: Exfoliation is achieved by using a single use capsule containing citric acid and sodium bicarbonate. A foaming effect is created which produces carbon dioxide to induces the natural release of oxygen from red blood cells, resulting in true oxygenation and glow.
OXYGENATION: A lack of oxygen slows down cell metabolism, ages cells prematurely, reduces skin firmness and creates a dull complexion. 3D HydrO2 Facial will supply oxygen and other specially selected ingredients to the upper layers of the epidermis and to increase blood flow, cell regeneration and help to minimise free radical damage. Some bacteria are unable to live in oxygen so the treatment can also have a positive effect on congestion.
HYDRATION: After applying a hydrating mask, ultrasound technology is used over the top in order to infuse the product into the skin. Its thermal action has a stimulating effect on the blood flow and activates cell metabolism. The biochemical effects trigger a micro massage in the tissue which stimulates the formation of new collagen.
SKIN LIFTING: Electroporation technology momentarily creates spaces in the outer layers of the skin enabling greater absorption of specially selected products that are applied topically. Using a combination of iontophoresis and anti-gravity actions, this hand piece also produces a minor muscle contraction and lifting effect.
SKIN TIGHTENING: Tri-polar radiofrequency delivers the energy directly into the dermis, raising the temperature to between 40-42 degrees. This causes an immediate contraction of existing mature collagen fibres and stimulation of the fibroblasts which results in the production of new collagen and a lasting, firmer, healthier skin.
CRYO FACIAL: The 'Cryo-facial' is a dual modality hand piece which uses heat and cooling technology. The skin temperature is heated to 42 degrees, which dilates the pores for deeper cleansing and also creates heat shock proteins—these are chemical messengers that trigger repair mechanisms to improve elasticity and firmness of the skin. The cooling aspect, chills the skin down to 5 degrees and is used at the end of each facial to give a further tightening and helps to seal infused products into the skin.