New Technology - 360 Cryo-Tec
Our brand new machine and latest industry technology for Fat Freezing / Cryolipolysis. With up to 4 areas being able to be treated at the same time, we can offer significant discounts for multi area treatments. The new technology cools to an incredible -15 degrees Celsius and the entire handle/head freezes with surround cooling, hence the name 360 Cryo-Tec, allowing greater results. See below on how this none-invasive technology works to reduce fat and smooth fat pockets in just a few weeks.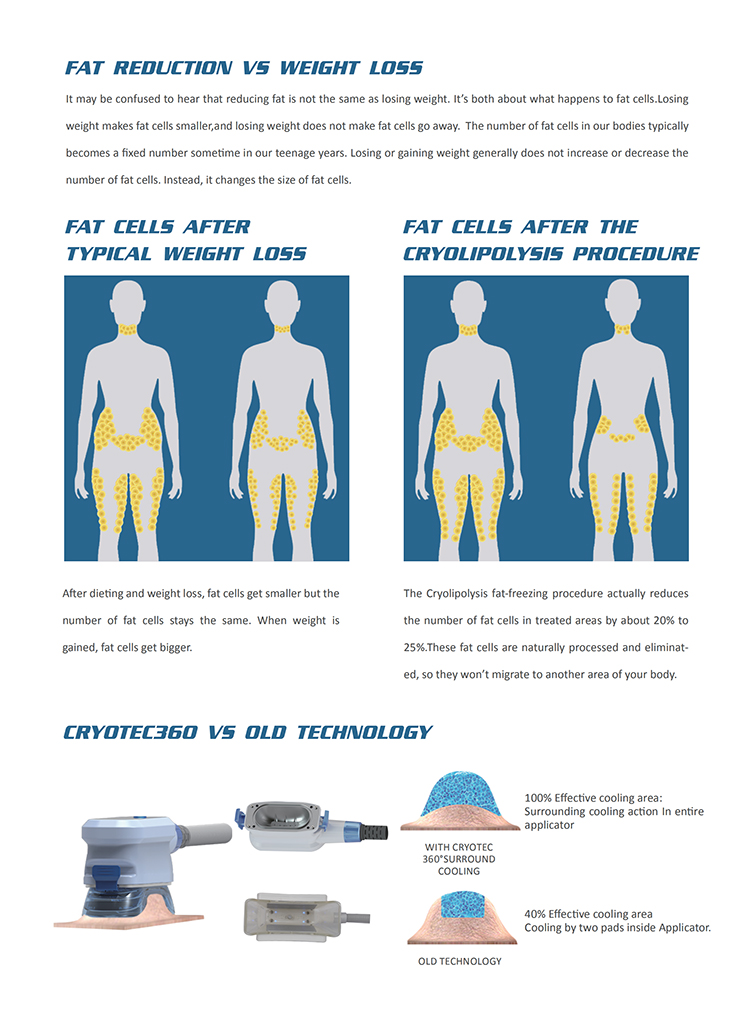 Q. What is Cryolipolysis (also known as Fat Freeze)
A. The latest non-invasive technology for fat reduction and sculpting and a risk free alternative to liposuction

A targeted super-cooling process using up to 4 special vacuumed applicator cups, that lowers the treatment area to below -15 degrees Celsius. Clinical studies show fat cells cannot survive at this temperature and so it effectively kills the fat cells underneath the skin, literally freezing them to the point of elimination. With a protective gel membrane between the freezing cup and the skin, there is no damage to the skin and the treatment area is numbed so that there is very little, if any, discomfort. The benefit of this technology is that no other cells are affected, only the fat cells are frozen as only fat cells can't survive under such temperatures. During the process, the fat cells crystallise, and die and are naturally eliminated from your body by a natural process called apoptosis. During the next few weeks, as those fat cells are naturally dispersed, your new body shape appears.
Typically 1-2 treatments required, however there can be no repeat of the same area for at least 8 weeks. Consider combining with ultrasound cavitation and/or shockwave in a course for the ultimate fat reduction treatment or with radio frequency for cellulite and skin tightening - see
here
. As an alternative, also look at our 3D Body HIFU option
here
. Treatment time 1 hour, with virtually no discomfort or downtime. Results visible within 6-8 weeks. Areas treated include anywhere there is a fat pocket, e.g., chin, arms, legs, knees, inner and outer thighs, back / bra line, hips, waist and tummy.
See prices below and our better than half price offer!
A full list of possible side effects, cautions, contra-indications and after care will be discussed during our free no pressure consultations prior to treatment.
Contact us directly at info@sanctuary-bramhall.com or on 0161 440 0001 / 07957 922888. Feel free to text.